C
ream Puffs; A light, but rich, hollow pastry puff which may be filled with a sweet filling, or, if you prefer, with savory filling. And I, have yet to ever trying one believe it or not. Call me crazy (like everyone else), but I have yet to ever tried cream puffs.
I actually decided yesterday after watching a new drama called Absolute Boyfriend that I wanted to try making cream puffs. In this drama I was watching, there was a girl who said to being to make the best cream puffs around. As she made them, I was thinking, "Hmm.. wow. That seems easy."
From what I heard from other, cream puffs are hard to make. I defiantly disagree with that. These were actually not hard at all. They're quite easy to make. I have no idea why people make a big fuss about them being hard to make.
What did I think after having my first ever cream puff? I'll put it simple... "Oh yea."
Recipe
1 cup water
3 1/2 ounces butter, cut into small pieces
1/4 teaspoon salt
1 cup bread flour
3 large eggs, beaten
2 egg whites [
reserve yolks for custard
]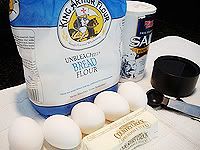 1
. Preheat oven to 420 degrees. Line a baking sheet with parchment paper. Do not grease baking sheet, as the grease will cause the dough to flatten.
2
. Cut up butter into small pieces. In a heavy saucepan over medium-high heat, combine the water and butter; bring mixture to a full rolling boil.
3
. Remove pan from the heat and add flour all at once, stirring vigorously with a wooden spoon until blended. Reduce heat to medium; return pan to heat and continue stirring until the mixture leaves the sides of the pan and forms a ball. Remove from heat and transfer the dough to the bowl of a mixer. With the paddle attachment, mix at low speed until the dough has cooled slightly.
4
. In a small bowl, add eggs and egg whites; Whisk until mixed together. At medium speed, beat the eggs/egg whites in slowly (at first the eggs will act like they don't want to mix in, but they will). When all the eggs are absorbed, the dough is ready to use. The dough should be soft and a little sticky, but be able to hold its shape.
5
. Place dough into bag. Cut the end off one corner with scissors, to make an opening about 1/4 inch. Squeeze the mixture onto the baking pan.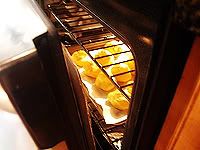 6
. Bake for a total of about 20 minutes. At 1 minutes into the baking, lower heat to 375 degrees F. and continue baking until golden brown. Approximately 5 to 10 minutes longer for the small puffs, and 15 to 20 minutes longer for large puffs.
7
. Remove from the oven and immediately prick the lower side of each puff with the tips with something sharp. Turn off oven and return puffs to the oven. Leave the door open slightly and allow the puffs to dry out for 10 to 15 minutes. Remove and oven and let puffs cool completely on the baking sheet on a wire rack before filling.
Makes about 2 dozen large puffs, 3 dozen medium puffs, to 5 to 6 dozen small puffs
.
For Custard
1/2 cup sugar
5 tbsp. flour
1/4 tsp. salt
2 cups milk
2 egg yolks, beaten
1 tsp. vanilla extract
1
. In a small saucepan, combine 1/2 cup sugar, 5 tablespoons flour and a pinch of salt. Stir in milk, a little at a time, until smooth. Bring to a boil over medium heat, stirring constantly.
2
. Boil for 1 minute, then pour a small amount of hot liquid into the 2 egg yolks, and stir. Then return now heated egg yolks to saucepan and stir until mixture starts to bubble again. Remove from heat and add vanilla. Cover and chill in refrigerator till ready to use.