L
ately, I don't know about other places, but lately here in Orlando, blackberries have been on sale. I'm guessing it the season for them? I really have no idea. I don't really know anything about berries. I only know about oranges since my fathers in the citrus business. But since they've been on sale, I thought, you know, why not get them. I mean, theres a lot I can bake and make with them.
I thought of added orange to these, you know, since they've just been laying around. My dad had just brought home a bunch of oranges recently, so I thought I might as well make use of them. It made the muffins just that much more better. So moist in the inside, and the blackberries; Oh my god, I just love berries when they are baked in the oven! When you take that first bite, and the berries are still hot and soft; It's just unbelievable.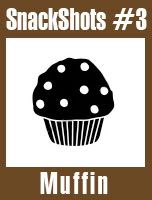 Theres an event that I recently found that I found pretty interesting. And I've yet to participate in it. It's a new blogging event called 'Snack Shots', and when the new event came up for muffins, I decided, why not enter it in? So, I've decided to enter my yummy Orange Blackberry Muffin into the running for Snack Shots #3; Muffins. Details for this event can be found here.











Recipe



2 cups all-purpose flour
2 1/2 teaspoons baking powder
1/4 teaspoon baking soda
1/4 teaspoon salt
1/3 cup sugar
1/2 cup butter, melted
Zest and juice of 1 orange
3/4 cup buttermilk
2 large eggs
3 tablespoons honey
1 cup blackberries, fresh

Decorating sugar, for topping (

optional

)




1

. Preheat the oven to 400 degrees. Butter or spray the 12 molds in a regular-size muffin pan or fit the molds with paper muffin cups.



2

. Pour the orange juice into a large glass measuring cup or a bowl and pour in enough buttermilk to make 1 cup. Whisk in the eggs, honey and melted butter.



3

. In a large bowl, rub sugar and orange zest together with fingertips until the sugar is moisten and you can smell the orange. Whisk in the flour, baking powder, baking soda and salt. Pour the liquid ingredients over the dry ingredients and gently but quickly stir to blend. Stir in the blackberries. Divide the batter evenly among the muffin cups.



4

. Bake for about 22 to 25 minutes. If you want, you can decorating the muffins with sugar. Just sprinkle on the sugar after the muffins have baked for 10 minutes. Transfer the pan to a rack and cool for 5 minutes before carefully removing each muffin.