Giada De Laurentiss is one of my favorite Food Network cooks to watch. All the food that she makes, I love. I'm a pasta fanatic. I'm either eating sweets or pasta (I'm a carb freak!). And I love italian food. It's my favorite type of food to eat, follow by Chinese and Mexican. I've tried a few of the other cooks and or cheif recipes with pasta, however, Giada's recipes have always been my favorite!

This recipe was one that I knew that I'd love. Ham with Macaroni and Cheese is truly an awesome combination to me (as well as to my boyfriend. He absolutely Macaroni and Cheese). And I liked the idea to use Egg Noodles. I was going to use Macaroni pasta, but when I looked into the pantry, all of it was gone. So I went with what the recipe called for.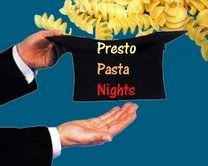 The egg noodles made the macaroni and cheese even more comforting then it already was. Which, I didn't think possible. But, it did. Everyone absolutely loved it, and I'll defiantly use egg noodles more often. There awesome in a Macaroni and Cheese. You can never go wrong with Giadas recipes! This was also entered into the Presto Pasta Night roundup!






Recipe



12 ounces wide egg noodles
2 cups heavy cream
2 1/2 cups whole milk
2 tsp. all-purpose flour
1/2 tsp. salt
1/4 tsp. pepper
2 cups grated Fontina
3/4 cup parmesan
3/4 cup mozzarella
4 ounces cooked ham, diced
2 tbsp. chopped parsley



1

. Preheat oven to 450 degrees. Butter a 13 by 9-inch glass baking dish and set aside.



2

. Cook the noodles in a large pot of boiling salted water until tender but still firm to bite, stirring frequently, about 5 minutes. Drain well, but do not rinse.



3

. Whisk the cream, milk, flour, 1/2 teaspoon salt, and pepper in large bowl to blend. Stir in 1 cup Fontina, 1/2 cup Parmesan, 1/2 cup mozzarella, ham, if using, and parsley. Add the noodles and toss to coat. Transfer the noodle mixture to the prepared baking dish. Toss the remaining 1 cup Fontina, 1/4 cup Parmesan, and 1/4 cup mozzarella in a small bowl to blend. Sprinkle the cheese mixture over the noodle mixture.



4

. Bake until the sauce bubbles and the cheese melts and begins to brown on top, about 20 minutes. Let stand for 10 minutes before serving.