So, I came up with this today while cleaning out the pantry. A few weeks ago, a family friend was cleaning his house up and getting rid of things that he no longer needed. Since his wife is no longer living with him, he had no need for all the baking supply she left at the house nor did she want them. Being the kind person he is, he gave
all
of it to me! And there was a lot!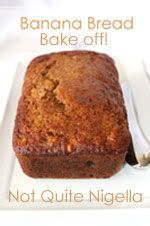 I got so much that I was seriously overwhelmed! I didn't know what to do with all of it! I'd never had so many things to make! Nonetheless, I was so happy to know that I had to many hings to use to bake with. And today I was trying to clean it up and decided to whip this up.
This Banana Bread serious is loaded. With Peanut M&M's, Peanut Butter Chips, Dark Chocolate Chips and Walnuts; It's just love in a loaf of bread.



Recipe



1 1/2 cups flour
1/2 whole wheat flour
2 tsp. baking powder
1/2 tsp. baking soda
1/4 tsp. salt
1/4 tsp. grated nutmeg
1 tbsp. grated orange peel
2 large banana's, ripe
1/4 cup walnuts, chopped
1/4 cup dark chocolate chips
1/4 cup peanut butter chips
1/2 cup peanut M&M's, crushed slightly
2 large eggs
3/4 cup packed brown sugar
8 tbsp. butter, melted
1/4 cup whole milk




1

. Preheat oven to 350 degrees. Butter a 9 x 5" or a 8 x 4" loaf pan.



2

. In a large bowl, mix together the flour, whole wheat flour, baking powder, baking soda, salt, nutmeg and orange peel. Set aside.



3

. In a medium bowl, mix together brown sugar and melted butter. Add eggs and mix together. Add milk and mashed banana's into mixture, mixing well. Add to flour mixture being careful not to over mix.



4

. Fold in dark chocolate chips, peanut butter chips, peanut M&M's and walnuts. Pour into buttered pan and top with extra walnuts, if desired. Bake for about 50-55 minutes or till done. Cool in pan for several minutes before transferring to wire rack to cool completely.