It was my little brother 13th birthday today. He can now officially consider himself a teenager (
He's been dieing to be able to say he's a teen. It's kind of cute
). I felt a little bad for him though because none of his friends could come spend time with him on his birthday. His best friend just recently moved back to New Orleans (
him and his family evacuated here before Katrina hit
), and all his other good friends were out of town. So I felt a little bad for him...
Nonetheless, I think he enjoyed his birthday very much. We took him rock climbing, which he absolutely loves to do, we got him all the silly little games that he's been wanting (
which all together cost about $300! Ridiculous how much games have been getting!
), and I made him a cake which he absolutely loved because it had one of his favor things; Mint!
My little brother loves anything and everything that has to do with Mint. So I wanted to make him a cake with that flavoring. To make it a little more minty, I found these mint chocolate chips at the grocery store (
ding, ding!
) so I got those to add to his cake to make it really sweet and minty. The finish product turned out pretty good, and he loved it, which made me really happy to know that he loved it and enjoyed his birthday. That's what mattered to me. I just wanted to make him happy.



Recipe





For Cake



2 1/4 cups flour
1/3 cup cocoa powder
2 cups sugar
4 ounces unsweetened chocolate, chopped
1/2 cup mint chocolate chips
2 tsp. baking powder
1 tsp. baking soda
1/4 tsp. salt
1 cup boiling water
1 cup butter
3 eggs
2 tsp. mint extract
1 cup milk



For Frosting



1 cup butter
4 cups powdered sugar
1/8 tsp. salt
2 tbsp. milk
2 tsp. vanilla




Cake





1

. Preheat oven to 350 degrees. Butter two 9-inch round baking pans. Set aside.



2

. In a stainless steel or heatproof bowl, place the chopped chocolate, mint chocolate chips and cocoa powder. Pour the boiling water over and stir until they have melted. Set aside to cool while you make the batter.



3

. In a seperate bowl , whisk the flour, baking powder, baking soda and salt. Set aside.



4

. In another bowl, cream the butter. Gradually add the sugar and continue beating until the mixture is fluffy. Add the eggs one at a time, mixing well after each addiction. Add the mint extract and melted chocolate mixture and beat to combine.



5

. Add the milk and flour mixture in three additions, beginning and ending with the flour mixture. Beat until incorperated.



6

. Divide batter evenly into prepared baking pans. Bake for about 35-40 minutes or until toothpick inserted into the middle comes out clean. Let cool for 10 minutes before taking out of pan. Place on wire rack and let cool completely before frosting.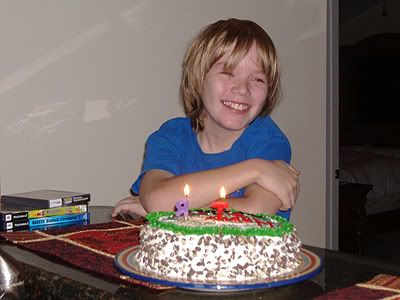 Frosting





1

. In a large bowl, beat butter, 2 cups of powdered sugar and salt until blended. Add milk and vanilla.



2

. Add remaining sugar and beat until incorperated. Beat frosting until fluffy and smooth. Makes about 2 1/2 cups.